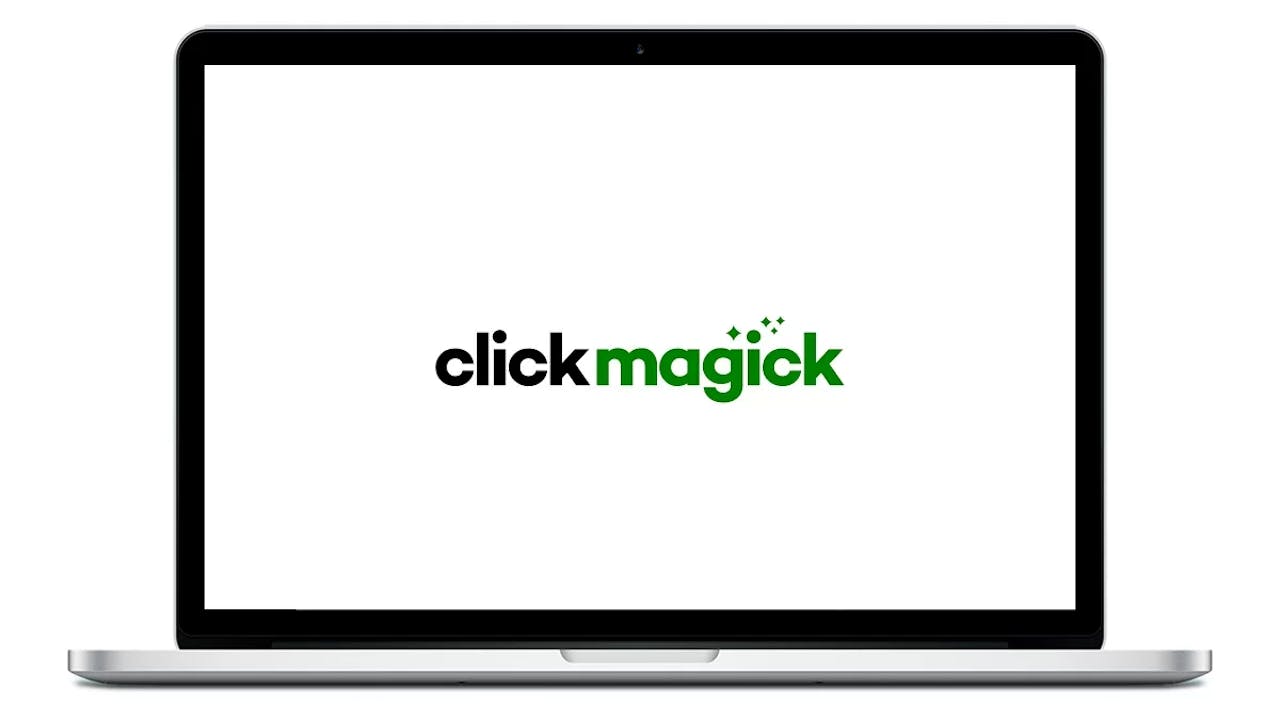 The Best Link Tracking Software in 2021 > Click Magick
Pros
- Detailed stats
- Bot filtering
- Great support
Cons
START YOUR TRIAL NOW!
In this review, you can read why you must do link tracking with ClickMagick and why you absolutely need this fantastic tool to track affiliate links.
When you generate traffic for your affiliate links, you need an affiliate link tracking software to track the traffic you get, to be able to collect data on your sales and conversions. If you run campaigns and ads, especially paid ads, you need to know that if it brings you quality and converting traffic.
If your ads, whether that be Google Ads, Facebook Ads, solos ads, or some other type of paid ads, deliver bad traffic that doesn't convert, you will eventually end up wasting a lot of your money.
That's why you need to use link tracking. When you have set up click tracking, you will learn a lot about what is performing badly or not at all and give you the opportunity to improve and optimize your campaigns.
This ClickMagick review will show you why this link tracking software is the best option for you.
Let's get started!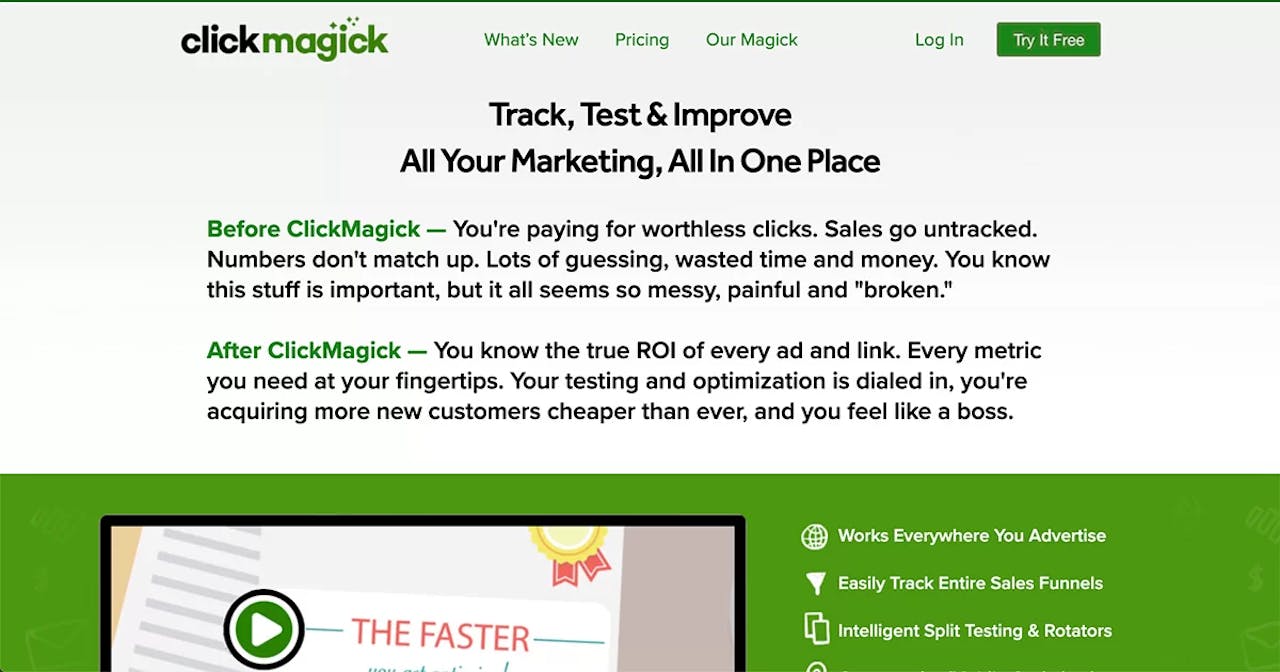 ClickMagick is in my opinion the best link tracking software there is. It's packed with great and variable features that are vital to correctly track clicks on your links, such as.
Link Cloaking
Automatic Bot Filtering
Click Fraud Monitoring & Traffic Quality Analysis
Custom Tracking Domains
Advanced Geotargeting & Mobile Optimization
A/B Split Testing with Automated Winner Alerts
And many more features
With ClickMagick you have analytics reporting on your click tracking and it keeps you updated on the performance of your different ads.
To an affiliate marketer, ClickMagick provides really useful reporting on:
Conversion rates
Click-trough rates
Campaign Return-On-Investment
Traffic Quality
Converting ads
Etc.
ClickMagick is the absolute best affiliate link tracking software for online marketers, and it is especially important for those who buy traffic. Not only does it track visits and conversions, but it also controls the incoming traffic by blocking false and fraudulent clicks from bots or VPN users. Because of this feature, you are able to maintain high-quality traffic.
The following section describes some of the other features you will get with ClickMagick.
With A/B split testing you can very easily test different versions of your link tracking separately. When you enter two or more page URLs, you set the percentage of traffic each page should get. Then place the ClickMagick tracking pixel into your thank-you/confirmation pages. This feature is also very useful when you want to test and track links in emails.
After the setup ClickMagick will randomly distribute the traffic across all the pages you have defined, and you can view detailed statistics for each page.
ClickMagick can also automatically pick the winner if the "confidence interval" is 95% or more.
ClickMagick's dashboard is fairly simple to navigate. You can relatively easily learn to use the dashboard and navigate the different functionalities and be able to set up valuable link tracking.
ClickMagick offers a 14-day free trial, which is more than enough to learn how it works and set tracking up. The free trial offers all tracking features, so you can test it out in full to see if this link tracking platform can help you optimize your campaigns increase conversions.
Tracking of Pages you don't own
One of ClickMagick's many unique features is the ability to set up URL tracking on pages you do not own. You can set up conversion tracking on external thank-you pages people will be sent to after they have made a purchase of one of your affiliate products. This enables you to really measure your conversion rates.
ClickMagick will score the quality of your traffic. This enables you to measure how good your traffic sources are.
You can view the overall traffic score, but you can also view it on three tiers. This data will tell you a lot about how unique the traffic you get is, and more importantly if it is real traffic. If your idle traffic score is more than 75 it means than your traffic is real.
Being able to measure the quality of your traffic is very helpful if you are using paid traffic to avoid wasting money on traffic that comes from fraudulent sellers, for example from bots.
One of the best features ClickMagick has to offers is the ability to increase your conversion by using targeting pixels.
With the targeting pixels, you can re-target your visitors and boost your sales. You can re-expose your visitors to all your offers with re-targeting and enable them to follow you all over the web.
Just add the re-targeting pixel and copy it to your tracking links. Remember to properly test the links.
The rotator feature is very useful when you have a number of links you want to share as an affiliate link.
You can place all your links in one rotator and share that rotator link. The rotator will then rotate and promote all your links.
With ClickMagick you can do automatic split testing of your link tracking. After you have set up split testing ClickMagick with automatically determine a winner and notify you of the result after which you can focus your campaign on that link.
Automated click filtering
This feature will automatically filter out any proxy or bot traffic allowing you to get "clean" traffic which gives you much better data to optimize your links and campaigns on.
ClickMagick can be used by any doing online marketing and have specific conversion goals.
If you are an affiliate marketer it is especially useful to do affiliate marketing tracking to be able to optimize your campaigns in order to boost conversions and sales.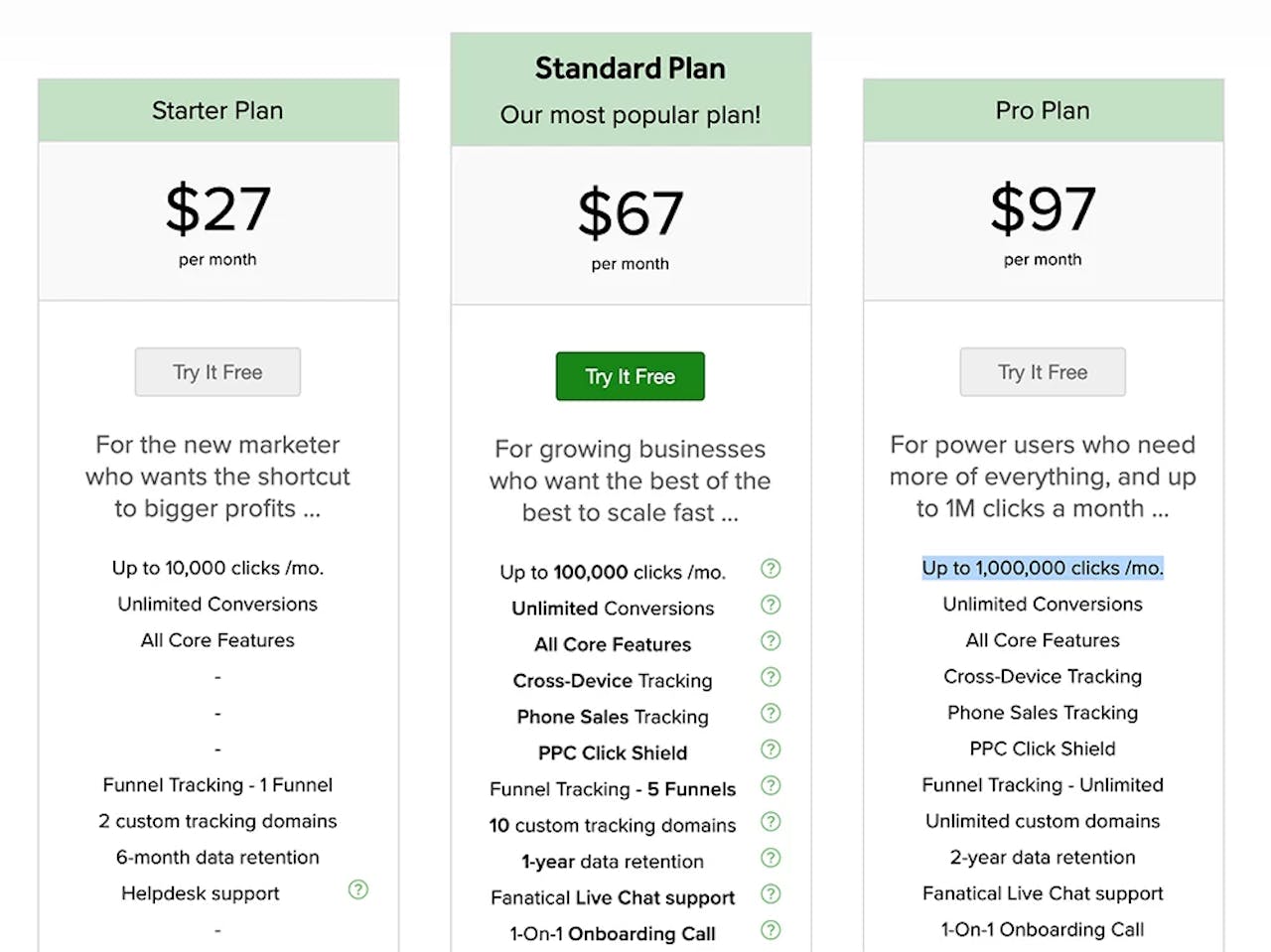 ClickMagick offers three different plans. Which plan to choose depends on the amount of traffic you are generating.
Starter Plan – $27 per month
Up to 10,000 clicks per month
2 custom tracking domains
Funnel tracking on 1 funnel
Unlimited conversions
All core features
Standard Plan – $67 per month
Up to 100,000 clicks per month
10 custom tracking domains
Funnel tracking on 5 funnels
Unlimited conversions
All core features
… and much more
Pro Plan – $97 per month
Up to 1,000,000 clicks per month
Unlimited custom domains
Unlimited funnel tracking
Live support
Unlimited conversions
… and much more
All plans offer a 14-day FREE trial.
IP Manager
Filter out or blick single IP-addresses or a range of IPs.
IP Lookup
Look up and tracking specific IPs. With this feature that can track conversions and sales or identity a fraudulent IP.
Detailed stats
Get detailed statistics on your links and campaigns to fully optimize those that optimize below what's expected.
Compatible with Google Analytics
It fully integrates with Google Analytics which allows you to dig deeper into how your visitors converts.
Many more great features
Tricky setup
It can be a little difficult to set up if you are unfamiliar with the terms.
For anyone doing online marketing, being able to track clicks is a must to identity low performing links and campaigns. ClickMagick offers a fantastic link tracking service, that will enable you to track links easily, packed with a bunch of features that will help you to optimize your affiliate campaigns and increase your conversions and sales.
The filtering of proxies and bots is probably one of the best features as this will definitely help you save money on paid traffic.
With the 14-day FREE trial you can check out all the features and quickly decide if you want to keep using it.
START YOUR TRIAL NOW!